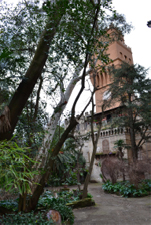 The Bed & Breakfast "La Torre di Ro" is situated in the beautiful Palasciano's Tower on the wonderful hill of Capodimonte in Naples. The building of great historical and artistic interest, lies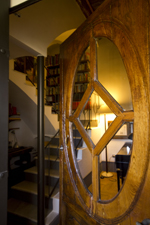 close to the Park and the Museum of Capodimonte Astronomical Observatory and the Catacombs of San Gennaro. These attractions are the jewels in the city of Naples and the Campania region as a whole.
"La Torre di Ro" is a unique artefact, surrounded as it is the lush green of a wood-yard, one neighbor foothill of the royal palace of Capodimonte which is bound to look and image of the flora, clearly inspired by the structure architecture of the Palazzo Vecchio in Florence.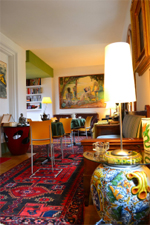 The three rooms available, all with private bath, are located inside the tower, placed one on each floor. From each of these you can enjoy a unique view of the city. The environment is' very warm and welcoming, furnished with taste and refinement. Along the path of stairs to the tower you can find many books of art and history of the city of Naples as well as readings of all kinds.
Guests there are several areas where it is available for free internet Wi-fi connection. The Mediterranean breakfast is served in the living room, opposite a beautiful view and a fireplace which is always on, or in an outdoor terrace overlooking the garden.
The Bed & Breakfast "La Torre di Ro '" offers the possibility of staying in a unique environment in which history and legend come together, to enjoy a breathtaking view over the city of Naples and relax in a peaceful place away from the chaos of the city but within walking distance of places of tourist interest. The historical center of Naples, in fact, is 10 minutes by bus.